COMMUNITY EVENTS & GROUPS
EVENTS FOR MENTAL HEALTH PROFESSIONALS
The Lovett Center invites guest speakers to host Continuing Education events and Wellness Activities that are free and open to mental health professionals with an RSVP.
October 2019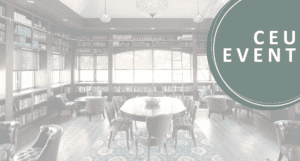 CLICK HERE TO RSVP With Guest Speaker Megan B. Ledet, LCSW Eating disorders are often a topic of uncertainty among many clinicians, especially when it comes to recognizing a true eating disorder versus disordered eating patterns masked in our diet culture. This presentation will dive into the varying eating disorder diagnoses, the psychological, biological, and sociological underpinnings of eating disorder development, and answer the common question of "why can't they just eat?" Learning Objectives: Describe characteristics associated with each…
Find out more »
November 2019
December 2019
+ Export Events
FREE AND OPEN TO THE PUBLIC
The Lovett Center holds a multitude of weekly support groups that are free and open to the public. For questions about meetings, please contact Cyrus Martin at cyrus@thelovettcenter.com.
SMART Recovery
Tuesdays from 5:45 – 7:15 p.m. and Fridays from Noon – 1:30 p.m., in Room 213
Men's AA Meeting
Tuesdays from 8:15 – 9:15 a.m., in the Group Space
Al-Anon Meeting
Wednesdays from Noon – 1:00 p.m., in the Group Space
Sex and Love Addicts Anonymous
Thursdays from 7:00 – 8:00 p.m., in the Library
Refuge Recovery
Thursdays from 8:00 – 9:00 p.m., in the Group Space
Women's AA Meeting
Saturdays from 11:00 a.m. – Noon, in the Group Space
Infidelity Survivors Meeting
Saturdays from 9:00 – 10:00 a.m., in Room 205
Sex and Love Addicts Anonymous – co-ed
Saturdays from 9:30 -10:30 a.m., in the Library