COMMUNITY EVENTS & GROUPS
EVENTS FOR MENTAL HEALTH PROFESSIONALS
The Lovett Center invites guest speakers to host Continuing Education events and Wellness Activities that are free and open to mental health professionals with an RSVP.
November 2019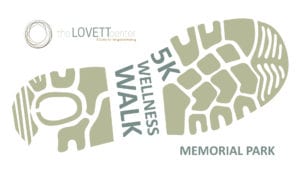 According to The Lancet, all exercise types are associated with a lower mental health burden – yes, even the simplest of exercises, such as walking! In an effort to promote wellness and self-care amongst Houston's mental health community, Cyrus Martin, Director of Admissions, has started a monthly 5K wellness walk. All mental health professionals and their family are welcome to join. The group will meet on the last Saturday of every month at 9:00 a.m. at Memorial Park, near the…
Find out more »
December 2019
January 2020
+ Export Events
FREE AND OPEN TO THE PUBLIC
The Lovett Center holds a multitude of weekly support groups that are free and open to the public. For questions about meetings, please contact Cyrus Martin at cyrus@thelovettcenter.com.
SMART Recovery
Tuesdays from 5:45 – 7:15 p.m. and Fridays from Noon – 1:30 p.m., in Room 213
Men's AA Meeting
Tuesdays from 8:15 – 9:15 a.m., in the Group Space
Al-Anon Meeting
Wednesdays from Noon – 1:00 p.m., in the Group Space
Sex and Love Addicts Anonymous
Thursdays from 7:00 – 8:00 p.m., in the Library
Refuge Recovery
Thursdays from 8:00 – 9:00 p.m., in the Group Space
Women's AA Meeting
Saturdays from 11:00 a.m. – Noon, in the Group Space
Infidelity Survivors Meeting
Saturdays from 9:00 – 10:00 a.m., in Room 205
Sex and Love Addicts Anonymous – co-ed
Saturdays from 9:30 -10:30 a.m., in the Library