COMMUNITY EVENTS & GROUPS
EVENTS FOR MENTAL HEALTH PROFESSIONALS
The Lovett Center invites guest speakers to host Continuing Education events and Wellness Activities that are free and open to mental health professionals with an RSVP.
February 2020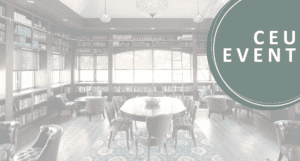 CLICK HERE TO RSVP With Guest Speaker Liliane Nahas, M.Ed., LPC-S, LMFT-S Emotionally Focused Couple Therapy (EFT) is an empirically supported approach to couple therapy based on attachment theory that has demonstrated a high recovery rate for relationship distress. EFT provides clinicians with a highly effective roadmap to help couples clarify the emotional signals they send to one another, de-escalate, and move out of the negative interaction patterns that threaten their experience of security and connectedness. Using a combination…
Find out more »
March 2020
April 2020
+ Export Events
FREE AND OPEN TO THE PUBLIC
The Lovett Center holds a multitude of weekly support groups that are free and open to the public. For questions about meetings, please contact Cyrus Martin at cyrus@thelovettcenter.com.
SMART Recovery
Tuesdays from 5:45 – 7:15 p.m. and Fridays from Noon – 1:30 p.m., in Room 213
Men's AA Meeting
Tuesdays from 8:15 – 9:15 a.m., in the Group Space
Al-Anon Meeting
Wednesdays from Noon – 1:00 p.m., in the Group Space
Sex and Love Addicts Anonymous
Thursdays from 7:00 – 8:00 p.m., in the Library
Refuge Recovery
Thursdays from 8:00 – 9:00 p.m., in the Group Space
Women's AA Meeting
Saturdays from 11:00 a.m. – Noon, in the Group Space
Infidelity Survivors Meeting
Saturdays from 9:00 – 10:00 a.m., in Room 205
Sex and Love Addicts Anonymous – co-ed
Saturdays from 9:30 -10:30 a.m., in the Library